District News
Next >> Viewing 1 - 20 of 42 stories
Pre-K Happenings October is a beautiful month! It is a wonderful time to learn about our five senses. The Pre-K students have been studying apples, pumpkins, autumn leaves, and more. They are using their five senses to discover, investigate, and understand the changing world around them. These little learners have been tasting different kinds of apples, exploring pumpkins, and learning how leaves change colors. They used their sense of hearing by going on a listening walk around the school. The natural curiosity of young children mixed with the magic of the season has created an exciting time of learning in Pre-K.
October Update Thank you to everyone for such a great turnout at our Fall Back to School Night two weeks ago! I have posted my presentation on the District website if you would like to see it again. For those of you who were unable to attend, I would like to highlight the Positivity Project (P2). Our kick-off assembly on September 13th was a great success and I am excited about the direction we are heading for character education. Teachers have been implementing daily lessons focused on the Other People Matter Mindset as well as the strengths of Curiosity and Teamwork. Parents, you should also have already received School Messenger communications about these traits as well as Character Cards so that you can be a part of the conversation as a family. The next strengths that students will ...
JRSH Inducts New National Junior Honor Society Members New National Junior Honor Society members were inducted at an evening ceremony on Thursday March 30th. Parents and administrators welcomed the group of 23 eighth graders. Tully Central School District congratulates the following students for their outstanding accomplishments. Bailey Albro Carly Bastedo Emma Bielecki Elizabeth Caron Stephen Coffin Annaleia Coppola Julia Dietz Nicole Edinger Madeleine Erno Lilly Fowler-Conner Katherine Haier William Hardy Brendyn Huggins Moira McAninch Elisabeth Moss Tessa Mucha Joseph Murray Brooke Rauber Addison Shaw Jaden Teeter Tiernan Tobin Lauren Yonko Clara Zook
Therapy Dog Visits High School Health Class Ms. Mirabito's 1st period health class had a therapy dog in training named Bella visit the class. Dr. Hecht (Marcus Lombardo's mom) is in training with her. The students are presenting alternative or complementary ways to treat stress and other ailments instead of taking medication. There was also a great presentation on cooking and how that can provide health enhancing benefits as well. They had students create ants on a log as a demonstration.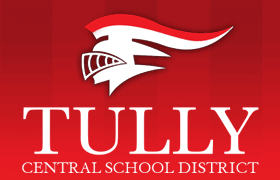 Junior High School High Honor, Honor and Merit Rolls Junior High School High Honor, Honor and Merit Rolls Second Marking Period – 2017 The following junior high (7-8) and senior high (9-12) students at Tully Junior-Senior High School qualified for the High Honor, Honor, or Merit Roll for the second marking period. Students attaining an overall average of 94.5 and above qualified for the High Honor Roll. Students who attained an overall average of 89.5 and above qualified for the Honor Roll and those with 84.5 qualified for the Merit Roll. There must be no incompletes. Berry, Thomas H 7 High Honor Byrne, Emma K 7 High Honor Downes, Morgan O 7 High Honor Drzewicki, Robyn A 7 High ...
Tully Boys Win the Sectional Class CD Championship Tully boys won the Sectional Class CD Championship last Friday with 139 points, 2nd place was Dolgeville with 77 points Mike Sawmiller and Joe Baker both cleared 11' in the pole vault and qualified for State quals. Jackson deal won the 1000 and Ryan Hanson, Daniel Bort and Bryce Florian placed 2 nd , 3 rd & 4 th after Ryan , Daniel and Troy Phillips captured 3 of the top four places in the 2 mile. John Salisbury was 2nd in the 55 hurdles and the 4x400 & 4x800 teams placed 1st The girls finished 3rd against some tough teams Best finish ever for the Tully girls Mackenzie Delles won the pole vault with a new school record jump of 10'-3" which makes the State Qualifying standard and she can now be 3rd at state quals and she goes to the states Emme Perkins ...
Boys and Girls Indoor Track Makes History !! History was made last night when both the boys and girls indoor track teams won the OHSL League championship meet. The boys scored 173 points and the girls scored 162 points. Both teams doubled the 2 nd place team's score. A couple of highlights were Danny Gambell winning the long jump with a huge PR of 19' 8-1/2". Emme Perkins 1 st in the 1000 after running a 65 in the opening leg of the winning 4x400 and coming back for a 2 nd in the 1500 . Ryan Hanson won the 1000, the 1600 and opened the winning 4 x 800 with a 2:08 and Emma Gero won the Shot Put and the Weight throw Congratulations Indoor Track!!!!
Coach Jeff Russell Wins his 200th Career Game! On Thursday night, 1/26/2017 our Varsity Girls Basketball coach Jeff Russell won his 200th career game as his Lady Knights beat Lafayette! Huge milestone for Coach Russell. Congratulations!!!
Junior High Students Attend All-County Junior High vocal students from Tully who attended the JH All County In January 2017. Lilly Fowler-Conner Lizzy Caron Clara Zook Ellie Moss Marissa Scalza Ellie Ives
L.G. Green Chapter of the National Honor Society Inducted Seven New Members Last week, the L.G. Green Chapter of the National Honor Society inducted seven new members. The current members spoke to their accomplishments both in and out of the classroom. In order to be inducted into the National Honor Society, students must reflect high commitment to scholarship, service, leadership, and character. The current and new inductees have worked hard throughout their high school careers to be recognized as National Honor Society members. The members for the 2016-2017 National Honor Society L.G. Green Chapter are as follows: Amanda Bielecki, Mackenzie Bolt, Kara Clark, Emily Fournier, Daniel Gambell, Rachel Gould, Taylor Grosso, Jade Hendricks, Benjamin Jones, Magdalyn Kosalek, Brendan Lyon, Griffen Magnan, Jakob Moss, Maureen Murphy, Emmeline Perkins, ...
8th Graders Share Family Recipes in FLEX Classes After reading and discussing multiple excerpts from the the book The Omnivore's Dilemma by Michael Pollan, students were asked to bring in family recipes to share with the class. During this unit on food, facts about the food industry were revealed to and questioned by our students. Their eyes were opened up to the truth behind fast food industries, organic food industries, and more. They became excited and interested to learn about the farms and factories where food is handled. Students discussed various sources of food that are right here in Tully. They came to the conclusion that local farms and community gardens are excellent resources for our community's food needs. Therefore, healthy, fresh, local foods provide more nutrition than processed foods that are found ...
Guest Speaker Visits 8th Grade Classes On November 16 a guest author, Chris DelGuercio, visited the English 8 classes throughout the day. The students have been reading various short stories and studying the craft of short story writing; now they are working on their own stories. Mr. DelGuercio specializes in this type of writing. He shared his own personal tips for writing and explained that he first starts in the "creation phase" and then moves into the "editing phase." He inspired students to be fearless in their writing and to let their emotions pour out onto the page.
7th Grade Students Qualify for NASA Essay Contest Congratulations to six of our 7 th graders whose essays for NASA's Cassini Scientist for a Day competition qualified them as semi-finalists. The contest had 1,150 entrants from 164 classrooms in 31 states. This is a huge accomplishment for our students as Tully represented 25% of all semi-finalists. The semi-finalists need to come to the main office at this time. They are: Annie Coppola, Lizzie Caron, Moira McAninch, Natalie Slazik, Gillian Wintermute, and Lauren Yonko.
Next >> Viewing 1 - 20 of 42 stories