Tully Elementary School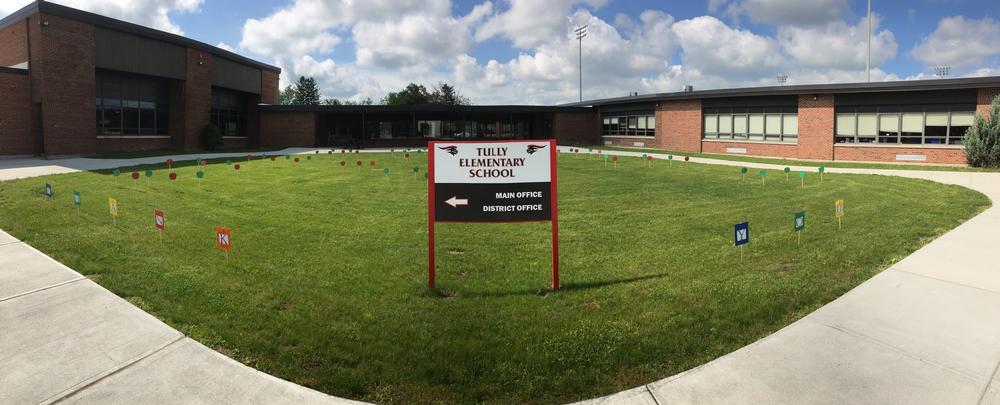 Address
20 State Street, Tully NY, 13159
Suspect Child Abuse?
School News
Sixth Grade Moves Up:

Another class has "graduated" from TES and what a great celebration it was! Sixth graders invited family members to watch the ceremony outside on the football field while they received their certificates. Before the presentation of certificates, several students spoke on what they remembered or loved most about TES such as the Albany trip, the plays they were in, extracurricular activities, specific habits of certain teachers/students, or fond memories of Mr. Wilson who retired a few ...

more >>
Green Lakes 2021:

Sixth graders were treated to their annual Green Lakes day this year in celebration of moving up where they were the first ones of the season to enjoy the warm sand and sun. Students played games like corn hole and tether ball, and swam in the lake, although a little chilly. In addition to a voted-upon lunch of pizza, students enjoyed ice cream and snacks in between swim time. Students were also given Class of 2027 beach towels and water bottles from the PTO. The day was filled with lots of laughter ...

more >>
Sixth Graders Have Talent:

Tully's sixth graders are definitely a talented bunch. Each year, the sixth graders get to sign up and perform in a talent show at the end of the year, if they choose. This year's bunch did an outstanding job with talent across many areas. Parents and other students have the pleasure of watching, although this year, it was live streamed and not in person. Parents watched from home, sixth grade peers watched it live in the auditorium, and other TES students viewed it from their classrooms. ...

more >>
4th Grade Ag Awareness Day:

A normal year would consist of the 4 th grade visiting Drumm Farm to learn about the ins and outs of the importance of the agriculture world, but this year, the farm was brought to the school. Tully FFA members constructed a day of agriculture awareness with twelve stations for small groups of students to rotate around. Fourth graders spent the afternoon outside on the JSHS campus with the FFA and their teachers. Stations focused on farm animals and what they provide, the daily work of a farmer, ...

more >>
The Trials of Alice in Wonderland:

The 5th and 6th graders worked very hard with their spring musical, The Trials of Alice in Wonderland. The students starting working on the show in April and it was streamed in June for parents, students, and the community. With 30 cast members and 9 crew members, TES was very fortunate to be able to professionally record the show! The show was directed by Kristine Wilson, Sue Biggar, and Leigh Ann Moss. They are extremely proud of what an amazing job both the cast and crew did to make this musical ...

more >>
View more stories >>
Links
Bullying Concerns?
---
Have a Tip?
To send an anonymous tip via text message to the Tully Central School District, text the keyword TULLYCSD and your tip to 847411 or click
here
.
---
Suspect Child Abuse?