Tully Elementary School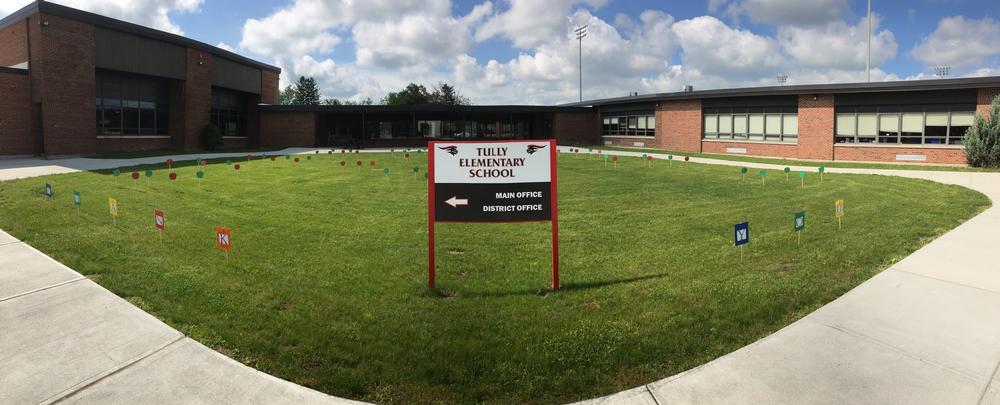 Address
20 State Street, Tully NY, 13159
Morning Announcements

Click on the Principal's Page link above to view past video updates and past morning announcements!
School News
4th Grade Ag Awareness Day:

A normal year would consist of the 4 th grade visiting Drumm Farm to learn about the ins and outs of the importance of the agriculture world, but this year, the farm was brought to the school. Tully FFA members constructed a day of agriculture awareness with twelve stations for small groups of students to rotate around. Fourth graders spent the afternoon outside on the JSHS campus with the FFA and their teachers. Stations focused on farm animals and what they provide, the daily work of a farmer, ...

more >>
The Trials of Alice in Wonderland:

The 5th and 6th graders worked very hard with their spring musical, The Trials of Alice in Wonderland. The students starting working on the show in April and it was streamed in June for parents, students, and the community. With 30 cast members and 9 crew members, TES was very fortunate to be able to professionally record the show! The show was directed by Kristine Wilson, Sue Biggar, and Leigh Ann Moss. They are extremely proud of what an amazing job both the cast and crew did to make this musical ...

more >>
PTO Sponsors Read-A-Thon:

Fundraising is something that the Elementary PTO has proven time and time again that they are good at, even during difficult times. They plan events that not only raise funds, but that benefit the kids in some way. This year's major fundraiser was the Read-A-Thon. Studies show that reading just 20 minutes a night improves overall literacy and vocabulary skills. Students were rewarded not only for reading or raising funds, but also for signing up, sending emails, and sharing on social media ...

more >>
TES Students Perform Well at NYSSMA:

Thirteen band students and seven chorus students participated in NYSSMA this year at the elementary level. All students will have the chance to move on to a harder level next year or choose a more advanced piece of music at the same level. This year, these students recorded their solo performance and uploaded a video for scoring. All NYSSMA students receive an Outstanding, Excellent, or Comments Only score. All chorus students received Outstanding ratings with a score of 27 or 28 (28 is the highest ...

more >>
Safety Patrol 2021 Comes to an End:

The Safety Patrol at the Elementary school has done a wonderful job keeping the students safe this year. For the end of the year, one more round of AM/PM captains and lieutenants were announced. Congratulations to AM Captain, Kamryn Meaney, and AM Lieutenant, Patrick Pierce, as well as to PM Captain, Hunter Bennett, and PM Lieutenant, Evangeline Votra. These students will fill their roles from May 25 through June 23. The Safety Patrol will wrap up the year with a celebration to thank all this year's ...

more >>
View more stories >>
Links
Bullying Concerns?
---
Have a Tip?
To send an anonymous tip via text message to the Tully Central School District, text the keyword TULLYCSD and your tip to 847411 or click
here
.
---
Suspect Child Abuse?