Tully Elementary School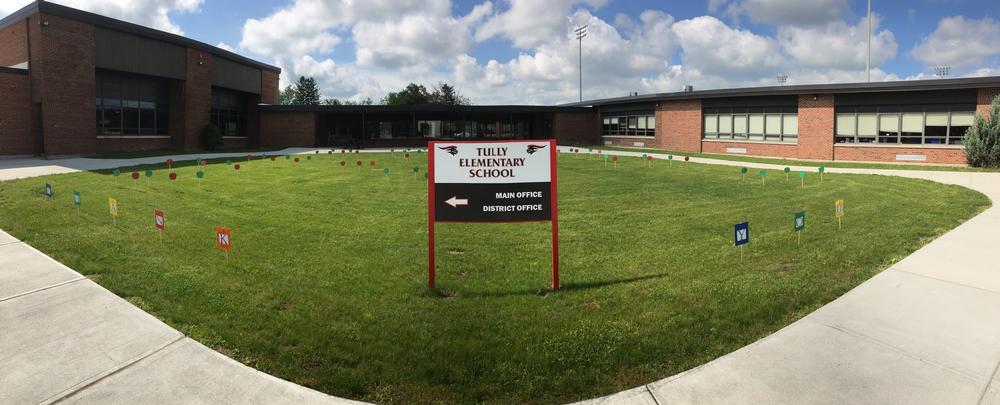 Address
20 State Street, Tully NY, 13159
Suspect Child Abuse?
School News
3...2...1...Lift Off!:

Maker Lab was in full swing this fall with 17 fifth and sixth graders participating. The theme for the session was model rocketry where students got to design, build, and launch a rocket. Mr. Keefe and Mrs. Fowler-Conner guided students during the building process and then made sure that everyone was safe during the launches. With a little luck, the launch days were nice and clear so students could see if their parachute deployed or not. Students were able to retrieve their rockets as they fell ...

more >>
Halloween Festivities:

There were many Halloween activities, new and old, happening in and around campus this year. The elementary students enjoyed their annual dressing up and parade. Parents got to come on campus and watch as the students paraded around the front courtyard and then around the side of the building. There were lots of fun costumes this year: police officers, animals, witches, ninja turtles, butterflies, storm troopers, and even a banana. They all looked great! Even the elementary staff and faculty got ...

more >>
Our Youngest Learn Bus Safety:

Our youngest students at TES enjoyed a sunny day while learning bus safety. Mrs. Katie Murphy, Tully Bus Dispatcher, spoke to the kids about seat belts, how to safely enter and exit the bus, evacuation procedures, and staying seated while the bus is in motion. Students practiced these important items and got to ask questions. Parents are encouraged to talk with their children about these important safety procedures as well. Students learn to use the emergency exit. ...

more >>
Safety Patrol 2021-22:

Tully Elementary's Safety Patrol training got off to a good start and began on October 1st this year. A total of twenty-five 5th and 6th graders were chosen for the task. These students are responsible for helping the younger students safely get into school. They also facilitate the afternoon dismissal. Every six weeks or so, a captain and lieutenant are named for the morning arrival and afternoon dismissal. These students help guide the rest of the patrol. Congratulations to AM Captain, ...

more >>
Notes by Knights Crunch It:

Mrs. Wilson and the Notes by Knights (5th and 6th grade) Chorus sang the National Anthem at the first Syracuse Crunch game of the season. Our students were the first game to be cancelled at the beginning of the pandemic two years ago, and the first to perform after 603 days without a game! The students did a wonderful job representing Tully Schools. The performance was caught on TV for anyone watching the game at home. Everyone had a great time and the Notes by Knights can't wait to sing at ...

more >>
View more stories >>
Links
Bullying Concerns?
---
Have a Tip?
To send an anonymous tip via text message to the Tully Central School District, text the keyword TULLYCSD and your tip to 847411 or click
here
.
---
Suspect Child Abuse?