Tully Elementary School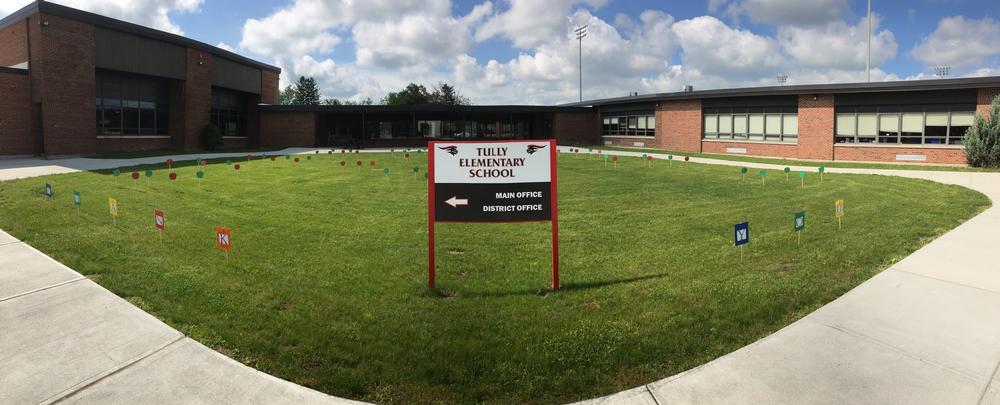 Address
20 State Street, Tully NY, 13159
Suspect Child Abuse?
School News
DEI Initiative Well Underway:

Many steps have been taken for the Diversity, Equity, and Inclusion initiative to set in place a long-standing community of individuals who will see to it that Tully is an environment that ensures everyone feels safe and valued. The NYS DEI Call to Action states that school districts "will create and sustain safe, nurturing, and engaging learning environments for ALL students," which is what Tully CSD is striving to do. Plans have been initiated at all levels to disperse information ...

more >>
Sock and Sole Dance to Benefit In My Father's Kitchen:

Students on the Character Council at TES took advantage of a great opportunity to do a little community outreach. Titled the Sock and Sole Dance, 5 th and 6 th graders were asked to bring donations of socks or personal hygiene items upon entering. These items, in turn, would be donated to In My Father's Kitchen where they would be distributed among Syracuse's homeless community. The Character Council was able to put twenty-two care bags together in addition to hundreds of socks that ...

more >>
March Madness Hoop Shoot 2022:

During the month of March, the NCAA Men's and Women's Basketball Tournaments take place to determine the national champion of college basketball. This tournament is referred to as "March Madness" and here at Tully Elementary we have our own version of this event. This year, TES hosted its 13 th annual March Madness Hoop Shoot. The event is a free throw shooting competition between students from the same grade level for one intense minute! This year's grade level champions ...

more >>
Small Detectives, Big Reward:

Some first grade students were in for a treat on St. Patrick's Day. They came to class donned in green not knowing what to expect. Leprechaun traps were set but no leprechauns were found. Instead, a message from a fast leprechaun was on the board giving students an opportunity to find him. Mrs. Beebe and her class took to scavenging the halls with clues of where the pesky leprechaun had been. Students didn't find a leprechaun, even with their exemplar deductive reasoning skills, but ...

more >>
Oreo Moons:

Learning about astronomy can be quite challenging for first graders, but not Tully first graders! By adding a sweet treat into the mix, students enjoyed (in more ways than one) learning about the different phases of the moon. Students in Mrs. Beebe's class took apart Oreos and made the filling change according to the eight different phases. Then, they kept a moon journal at home to document which phase the moon was in each night. Within 28 days, they were able to observe the moon in all eight ...

more >>
View more stories >>
Links
Bullying Concerns?
---
Have a Tip?
To send an anonymous tip via text message to the Tully Central School District, text the keyword TULLYCSD and your tip to 847411 or click
here
.
---
Suspect Child Abuse?