Tully Elementary School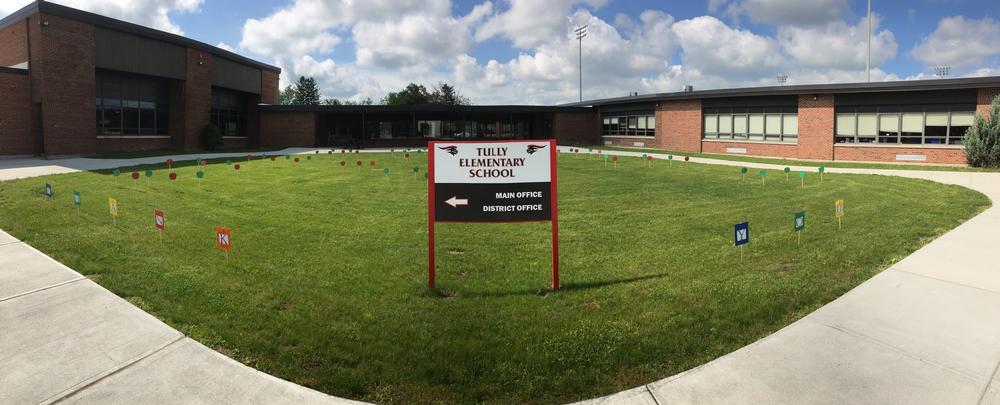 Address
20 State Street, Tully NY, 13159
Suspect Child Abuse?
School News
Authors in the Making:

Mrs. Lancer's third grade classroom got the chance to write and present their own real-life stories this spring. Students chose a topic that they wished to write about and included the details and facts about that specific time within it. They also learned what being a good listener entailed. When they were ready, invitations were sent out to teachers and staff of their choosing, inviting them to their classroom so they could share their writing. In all four corners of the room, an author's ...

more >>
Community Service with a Purpose:

To kick off the focus on P2's Purpose, the Tully Rotary, joined by the LaFayette Optimists and Pompey Lions, came to TES to give a live presentation in the auditorium. While the 3rd graders experienced the presentation in-person, the rest of the school was able to tune in virtually via live stream. Each service organization presented on "purpose" and shared some of their work in the community. The Pompey Lions club touched on the history of Helen Keller and how the club helps to ...

more >>
Digital Narrative Storytelling:

Fourth grade has been working hard on their writing skills and it shows! They were put to the test with an assignment that had them writing, reading, and thinking critically. Students enjoyed becoming the storyteller through a digital storyboard that they created, incorporating dialogue, figurative language, and a lesson for the reader/listener. After creating these digital masterpieces, they shared them among their peers and with the 2nd graders. The 2nd graders were captivated as they listened ...

more >>
DEI Initiative Well Underway:

Many steps have been taken for the Diversity, Equity, and Inclusion initiative to set in place a long-standing community of individuals who will see to it that Tully is an environment that ensures everyone feels safe and valued. The NYS DEI Call to Action states that school districts "will create and sustain safe, nurturing, and engaging learning environments for ALL students," which is what Tully CSD is striving to do. Plans have been initiated at all levels to disperse information ...

more >>
Sock and Sole Dance to Benefit In My Father's Kitchen:

Students on the Character Council at TES took advantage of a great opportunity to do a little community outreach. Titled the Sock and Sole Dance, 5 th and 6 th graders were asked to bring donations of socks or personal hygiene items upon entering. These items, in turn, would be donated to In My Father's Kitchen where they would be distributed among Syracuse's homeless community. The Character Council was able to put twenty-two care bags together in addition to hundreds of socks that ...

more >>
View more stories >>
Links
Bullying Concerns?
---
Have a Tip?
To send an anonymous tip via text message to the Tully Central School District, text the keyword TULLYCSD and your tip to 847411 or click
here
.